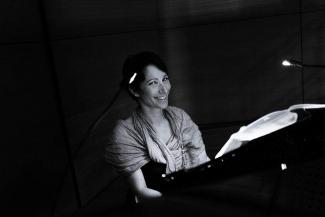 Roberta Ferrari
Born in Milan, she graduated in experimental piano with a concert vocation at the Milan Conservatory in 1994.
She has held numerous concerts as a soloist in various Italian music institutions, she performed at a very young age in a trio for the "SERATE MUSICALI MILANESI" and as a soloist selected at the age of fourteen with the orchestra of the Milan Conservatory.
She has attended several courses and won several scholarships for Repetiteur:
in 1995 IV LABORATORIO LIRICO, with M° Massimo De Bernart at "Accademia della voce di Brescia"
in 1995 BOTTEGA LABORATORIO INTERNAZIONALE with M° Peter Maag al "Teatro Comunale di Treviso"
in 1996 TWO YEARS COURSE for Repetiteur at TEATRO ALLA SCALA in Milano. 
Since 1996 she has collaborated with various Opera Companies as Repetiteur and pianist in orchestra, including ARENA DI VERONA  1996 - 1997 - 1998 , TEATRO CARLO FELICE in Genova, TEATRI SPA in Treviso. 
She is Repetiteur, pianist and harpsichordist since 1998 at GRAN TEATRO LA FENICE in Venezia. 
She has collaborated with many conductors including Peter Maag, Bruno Campanella, Yuri Ahronovitch, Angelo Campori, Bruno Bartoletti, Lothar Zagrosek, Nello Santi, Jeffrey Tate, Djansug Kakhidze, Myung Whun Chung, Daniele Rustioni, Yoram David, Ottavio Dantone, Stefano Montanari, Corrado Rovaris, Giancarlo Andretta, Gabriele Ferro, Isaac Karabtchevsky, Lothar Zagrosek, Mark Minkowski, Tiziano Severini, Grygory Rath, Diego Fasolis, Louis Langrè, Antonello Manacorda, Riccardo Frizza, Omer Wellber, Renato Palumbo, Nicola Luisotti and many other. 
She has collaborated with singer including Raina Kabaivanska, Ghena Dimitrova, Giovanna Casolla, Nathalie Dessay, Gregory Kunde, Lawrence Brownlee, Rockwell Blake, Mariella Devia, Lucia Mazzaria, Dimitra Theodossiou, Maria Guleghina, Daniela Dessì, Luciana Serra, Enzo Dara, Renato Bruson, Carmela Remigio, Alessandro Corbelli, Pietro Spagnoli, Olga Peretyatko, Ludovic Tezier, Kristian Johannsson, Nicola Martinucci, Giorgio Surjan, Jessica Pratt, Francesco Meli, Leo Nucci, Ferruccio Furlanetto, Fiorenza Cedolins, Veronica Simeoni, Alex Esposito, Vladimir Stoyanov, Kristin Lewis. 
She has collaborated as assistant and accompanying pianist in various and prestigious international competitions and singing masterclasses held by illustrious singers such as  Regina Resnik, Simone Alaimo, Bruno De Simone, Michele Pertusi and other. 
She collaborated as a teacher for the regional training courses for Repetiteur at the Teatro Comunale of Treviso in the years 2008 and 2009.
Since 2005 che collaborate as Vocal Coach for Minato Mirai Opera Festival a Yokohama and since 2011 as Chef de Chant e continuista at Festival d'Opera di Aix en Provence in Francia, where, in 2016, she has played the "recitativi" and "basso continuo" with the Freiburger Barockorchester for the production of "Così fan tutte" at the Festival di Aix-en-Provence, production that has had a long successful tour at the Teatro di Edimburgo in Scotland and at Alice Tully Hall in New York in the context of festival Mostly Mozart.